Fresh Oysters
Craving some delicious oysters? Place your order with Huîtres en mouvement MTL. We sell already shucked oysters. And deliver everywhere in Montreal.
To make a reservation or place an order, call us at 514-703-4770
An Innovative and Convenient Concept with Fresh Oysters
Huîtres en mouvement MTL's innovative shucking and conservation technique means that we can provide fresh supplies of quality oysters at all times.
Your products will be meticulously cleaned and prepared just before delivery via refrigerated transportation. Moreover, our highly-skilled master shuckers open the oysters with finesse and precision. Contact us right away to benefit from shellfish of outstanding quality. On a simple call, your oyster trays will be delivered to your door!
In addition to delivery, our company also offers a "show & shuck" service, whereby we set up counters, stands or barrels at your wedding, birthday parties, seminars or receptions and have master shuckers open the oysters right before your eyes.
We handle your fresh oyster orders with speed, finesse and efficiency in Montreal.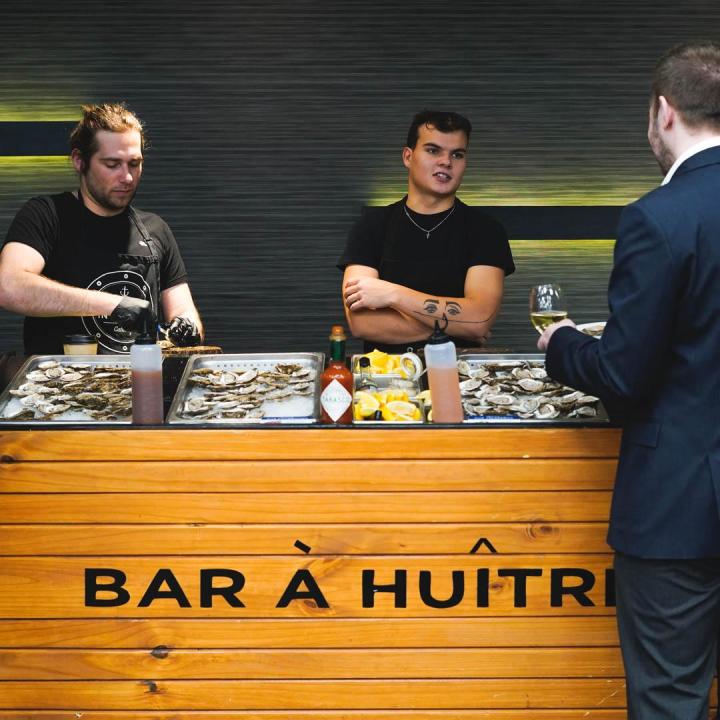 Our Specialties
Catering Service
Sale and Delivery of Fresh, Already Shucked Oysters
Sale and Delivery of Premium-Quality Seafood
Oyster and Seafood Platter Preparation
Our Strenghts
Fresh Products
Professional Service
Adaptability
Serving…
Montreal and the surrounding areas.
Oyster buffets full of flavor and freshness in Montreal
We offer a large variety of premium quality shellfish sourced from world-renowned oyster farms. We guarantee a fresh everyday supply of oysters, carefully selected and prepared by experienced professionals to ensure your satisfaction.
Look no further! Huîtres en mouvement MTL is your one-stop address for the best oyster and seafood platters in Montréal.
We offer a fast delivery service to meet your requirements.
Order Shiny Sea, Raspberry Point, Lucky Lime, Pickle Point and other varieties.